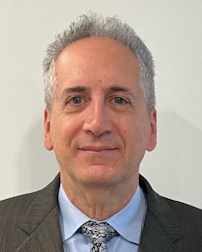 Click for Photo
Hi-Res | Low-Res
Elliott was born and raised in Miami, Florida long before it was overrun by millions of new residents from other parts of the U.S. and other countries.  After attending the University of Florida as an undergraduate and law student, Elliott returned to Miami to practice law with a small firm as he planned to fulfill his lifelong dream of making Aliyah, which he did in June, 1982.  To Elliott's surprise, his girlfriend at the time, Lori, agreed to join him (Lori previously participated in a Young Judea "gap year" in Israel, so she had actually been in Israel longer than Elliott prior to making Aliyah together).  In November, 1983, the young couple briefly returned to Florida to get married in Cocoa Beach, where Lori grew up, and then returned to Israel where they lived until March, 1986.  During those years Elliott practiced law with a Tel Aviv law firm whose clients were primarily U.S. and European clients who were doing business in Israel and Israeli companies doing business in the U.S. and Europe.
Upon informing the partners at the Tel Aviv firm that Lori and Elliott were returning to the U.S. (assuming back to Florida), the partners presented Elliott with a proposal to join a New York law firm that had a close working relationship with the Tel Aviv firm.  That is how a native Floridian ended up in New York, and later New Jersey, living first in Edison, NJ for 11 years and Marlboro, NJ for 23 years.
Elliott stayed with that New York law firm for seven years and then became General Counsel for over 14 years at two different groups of companies.  In 2007, he returned to private practice at two different New York law firms and, in September, 2009, opened his own practice.  In January of this year, Elliott entered into a partnership with his colleague, and Brown & Blaier, PC was born.
Shortly after moving to Marlboro, NJ in 1999, Elliott joined the Men's Club at Congregation Ohev Shalom-Marlboro Jewish Center.  Elliott quickly became active in the Club and served as President or Co-President of the Club for several years until a successor finally stepped up to the plate.  Elliott also joined the Executive Board of the Northern New Jersey Region and held several positions, eventually becoming President of the Region.  Elliott served for many years as a Trustee on Marlboro Jewish Center's Board of Trustees.  In addition, Elliott chaired the Marlboro Jewish Center's Israel Affairs and World Jewry Committee, and was Co-Chairman of the synagogue's Keruv Committee.
Elliott and Lori have been married for 38 years and are the proud parents of daughters Arielle and Samantha and son-in-law Brian.  Lori and Elliott recently returned to their Florida roots, purchasing a home in Boynton Beach.  As a newly minted "snow bird" (or "snow flake"), Elliott returns to New Jersey often, both for personal and professional purposes.  Elliott remains an active member of the Marlboro Jewish Center Men's Club and the Northern New Jersey Region, and also supports Temple Torat Emet in Boynton Beach.