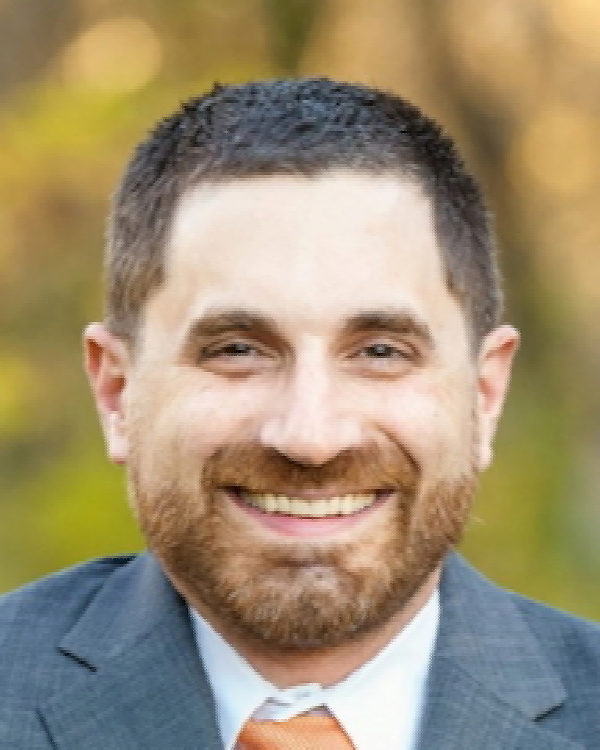 Click for Photo:
Hi-Res | Low-Res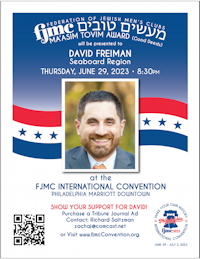 Click for Flyer:
Hi-Res | Low-Res

David was born in 1982 and raised outside of Baltimore, Maryland in Pikesville. David met his wife, Anna, while attending the University of Maryland, College Park. They have been married for 16 years and have one daughter, Adina, who is 9 years old. David is a CPA and currently works as a data privacy director in financial services.
David began his FJMC involvement in 2009 when he and Anna joined Shaare Torah Congregation in Gaithersburg, MD. David served as president of the club from 2014-2017. During his tenure as president, the Shaare Torah Men's Club was the fastest growing Seaboard club. In 2022, David completed his two-year term as president of Shaare Torah Congregation.
At the 2015 convention in Miami, we met Aaron Kintu Moses z"l of the Abayudaya Jewish community of Uganda. David was inspired by what he learned about this community, and he has dedicated the last eight years to supporting the Abayudaya – its Men's Club and the Hadassah Primary School.
In 2016, David partnered with several Seaboard men to raise funds to rescue several Abayudaya trapped by brutal fighting across the border in South Sudan. That year, David helped to raised additional funds to purchase solar panels for the Hadassah Primary School. In 2016, David was also honored as the Shaare Torah Blue Yarmulke Man of the Year at the annual Seaboard gala.
In 2017, David and Anna hosted Aaron Moses for several nights before the convention in Alexandria, VA and hosted a fundraising parlor session in their home. David took Aaron on tours of the White House, the Capitol, and the Udvar-Hazy Air and Space Museum in Virginia.
In 2019, David visited Mbale, Uganda to attend the celebration marking 100 years since the Abayudaya adopted Judaism in 1919.  On this trip, David was further inspired by the survival and successes of the Abayudaya community in the face of developing world adversity. The Abayudaya are such an outlier in the Jewish world, and yet the community has persisted through creativity, determination, and strong friendships. David knew in 2019 that he would dedicate himself to supporting this beautiful community.
Beginning before the COVID pandemic, David has led FJMC efforts to raise funds and awareness for the Abayudaya. David presented on the Abayudaya at the 2021 virtual FJMC convention, and he has even traveled to Buffalo, NY to introduce the Abayudaya to the Beth Tzedek community at their Men's Club Shabbat. Through these efforts, David has helped to raise over $50,000 for the Abayudaya. David seeks opportunities to visit more Men's Clubs to discuss this inspiring community and raise awareness.
David recently launched a new initiative to encourage b'nai Mitzvah students to support the Abayudaya as part of their Mitzvah projects. One student in the Philly-area already completed this program and raised over $5,000 for the Hadassah Primary School. David asks that FJMC members help to share this program throughout their communities.
David is truly humbled by this honor from the Seaboard Region. He holds all past Ma'asim Tovim honorees in the highest regard, and he is honored to be counted among them. David wants to thank the Shaare Torah Community for its support over the years, specifically Rabbi Jacob Blumenthal, Rabbi Mark Raphael, Rabbi Annie Lewis, Rabbi Yosef Goldman, Michael Weisel, Matt Oziel, and Greg Gore. David also wants to thank Seaboard leaders Bruce Gordon, Bob Watts, Eric Beser, Dan Moldover, and Alex Pomerantz. Special thanks go out to David's wife, Anna, and his daughter, Adina, for their patience and for sharing him with the community over the past decade.