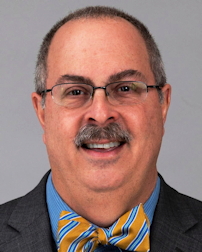 Click for Photo:
Hi-Res | Low-Res
Mark's FJMC journey began in 2001 when he moved to St. Louis, Missouri from Tampa, Florida after accepting a position as quality assurance team lead with SBC, now AT&T.  The Salisbury, Maryland native is a graduate of the University of Maryland, Baltimore County.
Once settled in Missouri, Mark, his wife, Alyce (who have now been married 38 years), and their three kids joined Congregation B'nai Amoona in the St. Louis suburb of Creve Coeur.  He affiliated with the synagogue's men's club, volunteered to assist with varied projects, and was elected club president in 2007.
His affiliation with men's group activities expanded as he became engaged in FJMC Midwest Region activities. Mark first served a retreat chair and later as vice president and Region president, 2017-19.
Mark also volunteered and has served FJMC International in numerous capacities. These roles included convention "program fair" chair in 2015; representative of Hearing Men's Voices and IT committees; chair of the Leadership Development Institute; FJMC secretary, 2019-21 and as FJMC member at-large, 2021-23.  Additionally, he serves on these committees: Future of Conventions, Vision of the Future of FJMC, and the FJMC Executive Search committee.
In 2021, Mark & Alyce retired from their full-time occupations and relocated to Palm Coast, Florida. They now enjoy walking on the beach, getting involved in their new synagogue, Congregation B'nai Torah, Ormond Beach, Florida – where Mark is men's club president – and traveling to see family and new destinations.
The Givarz are the parents of Erin (married to Lee) of Austin, Texas; Glen of Las Vegas, Nevada and Steve (engaged to Laura) of Sarasota, Florida. They have a wonderful granddaughter, Ari Rose.