Click for Photo:
Hi-Res | Low-Res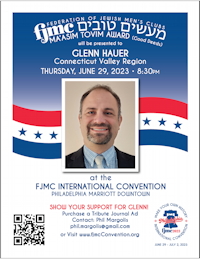 Click for Flyer:
Hi-Res | Low-Res

Glenn Hauer lives in Vernon, CT with his wife Rebecca, sons Alex 19, and Josh 17.  His daughter Kristen 26, lives in Sierra Vista, AZ with her son Kairo.  Glenn recently started as a Branch Manager for Envoy Mortgage where he helps people to fund the home of their dreams.
Glenn's participation in the Jewish Community started in 6th grade. Glenn was an avid member of Kadima in Orange, CT, and went on to join Hanefesh Region USY. While in USY, Glenn became the Regional VP of Membership and Kadima. Glenn participated on USY Israel Pilgrimage, which included a week in the Israeli army (Gadna).  Glenn also attended Makom, the Hebrew High School of the community where he grew up from eighth grade through graduation from high school.
Glenn has lived in Vernon, CT since 1998. He moved to Vernon after his mother married the Rabbi of Rockville, CT. Beginning his freshman year of college, Glenn began teaching at the Hebrew School in Longmeadow, MA and was the Kadima advisor for two years. After living in Israel for a year, Glenn began teaching Hebrew School at B'nai Israel Synagogue in Vernon/Rockville, CT. While teaching, Glenn also took on the role of USY advisor for several years.
In 2000 Glenn began working on the synagogue golf tournament as a member of the Board. After two years on the committee, Glenn became one of the tournament Co-chairs, and has remained in this position twenty-two years later. The tournament has raised over 50 thousand dollars to feed the hungry, and most recently 32 thousand dollars for the Connecticut Children's Medical Center Oncology Research Department. 
Glenn has served as chapter Board vice president for 10 years, only stepping down when he became Executive Regional Vice President of CT Valley FJMC. From 2017 – 2019 Glenn served as Regional President of CT Valley FJMC.  After serving his term with FJMC, Glenn is now President of the BSBI brotherhood in Manchester, CT.
Glenn volunteers often for Brotherhood events to help with setting up or breaking down. Every Sunday meeting will find Glenn in the kitchen helping to set up for the monthly breakfast. Glenn has chaired several events put on by the Brotherhood of BSBI.