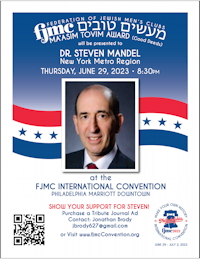 Click for Flyer:
Hi-Res | Low-Res

Steven Mandel MD is Clinical Professor of Neurology at Hofstra/Northwell And adjunct Professor of Medicine at New York Medical College.  He is a Member of Park Avenue Synagogue and Sutton Place Synagogue. His parents immigrated from Hungary and Czechoslovakia in the 1930's and settled on the Lower East Side of Manhattan.

After graduating City College of New York, he then attended and graduated from The Albert Einstein College of Medicine. He completed his residency in neurology At Montefiore-Einstein, he did a Jerry Lewis Neuromuscular Disease Fellowship at Washington University in St. Louis, Missouri.  Prior to his move to New York, he was Professor of Neurology and Anesthesiology at Jefferson Medical College in Philadelphia, Pa.  Before retiring from clinical practice, he was Director of Neurology Outreach at Lenox Hill Hospital in New York.  Steven was chosen among all the graduates of the history of Einstein Medical School to receive the first Alumni Award for Excellence in the Practice of Medicine.

He currently teaches in the areas of traumatic brain injury, voice disorders, Sjogren's Syndrome, and disability medicine. He has published many books and peer-reviewed Articles.  Currently, he teaches and mentors faculty and student physicians, as well as contributes to committees and medical treatment guidelines.  He serves as an AMA ambassador and the Senior Physician liaison to New York State.

Steven is the Vice President of Outreach and Engagement for the New York- Metro FJMC. He services on multiple committees, including the Diversity, Equity, and Inclusion (DEI) of the FJMC.  He and his wife, Heidi, initiated the Imagine Life Program of the FJMC whose mission was to reduce the stigma of mental illness, suicide and addiction in the Jewish community.  The Tzedek Program was also started by them for Jewish youth to grant awards for projects to support Jewish life.  Steven was FJMC Man of the Year in Philadelphia and New York and in addition, the Regional Man of the Year from the New York Metro FJMC.  He has received the Ernest L. Rothschild Metny Leadership Award.  Steven is a National Commissioner for the Anti Defamation League (ADL) and supports programs in education, such as No Place for Hate and A World of Difference.  He has facilitated programs and written articles on addiction in the Jewish community with the T'Shuvah Center.  At Park Avenue Synagogue, he completed the two-year Melton course and has continued his Melton education with other courses.

He is married to his best friend, Heidi, who shared his commitment to Jewish values, family and community.  She has a PhD from Columbia University in medical social work. She writes poetry and facilitates support groups in creative writing and narrative medicine.

They have three children and one granddaughter.