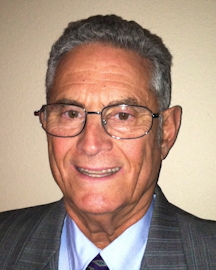 Click for Photo:
Hi-Res | Low-Res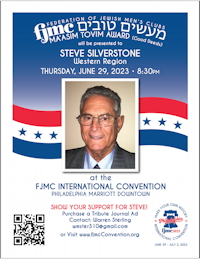 Click for Flyer:
Hi-Res | Low-Res

Steven Silverstone was born in Los Angeles and attended Westchester High School. He had his bar mitzvah at Westchester Jewish Congregation which merged with Tikvat Jacob Beth Torah in Manhattan Beach. Steve was active in AZA in high school and became the President of his chapter. At Westchester High School, Steve played some football and was on the swimming team. Steve then attended the University of Southern California (USC) for undergrad and majored in Industrial Engineering. At USC Steve was a member of the Trojan Knights. They were involved in doing card stunts with the fans at USC Football games during the games. Steve is still huge USC Football fan and has season tickets to all the home games. While in college Steve's fraternity brother had a cousin, Ronnie Gordon who at the time was a freshman at Ohio State University. She joined her father in LA when he was a visiting professor at USC for the summer. Ronnie and Steve met during that trip. During the following winter break Steve took a 3 day train ride to Akron Ohio to see Ronnie. A couple of years later Ronnie transferred to UCLA and lived with her aunt in LA. They married after 3 years of dating and began a family in the LA area. They have two daughters, Cheryl married to Jim Niekamp who live in Atlanta with 3 children and Deborah married to Greg Hersberg who live in Thousand Oaks, California with two children.
After undergrad, Steven went to grad school at USC to continue his major of Industrial Engineering. Steve then went to work for Electro Form Inc for 17 years and retired in 2009 from his last job at Northrup Grumman where he was Mission Assurance Manager.
Steve and Ronnie  raised their family in Torrance California. They were members of  Temple Menorah where their children started preschool. Currently Steve is a member of Congregation Ner Tamid in Rancho Palos Verdes since 1978, almost 45 years. Steve was President of Congregation Ner Tamid, became president of the Men's Club he helped create which led him to be involved in the Western Region FJMC. Myles Simpson became a mentor and Steve soon got involved in the Western Region. From running the Beach Party at Huntington Beach for FJMC Convention in 2011, Steve eventually became President of the Western Region. Then he moved on to  positions at FJMC International. He ran LDI at Pearlstone in Baltimore and is currently Chairman of the Quality Club Awards. Sadly, his wife Ronnie has passed recently after a long illness and his daughters are his strength getting thru the difficult days.
We wish Steven Silverstone a hearty Mazel Tov on his being chosen the Ma'asim Tovim Honoree for the Western Region. Throughout his life, Steven was always the one to get involved and make a difference in every synagogue or organization he gets involved in. He is truly a doer of good deeds and has more than earned the recognition to receive the Ma'asim Tovim award from the Western Region. We look forward to honoring him and his fellow Ma'asim Tovim honorees at the FJMC Biannual convention June 29th thru July 3rd  2023 in Philadelphia.